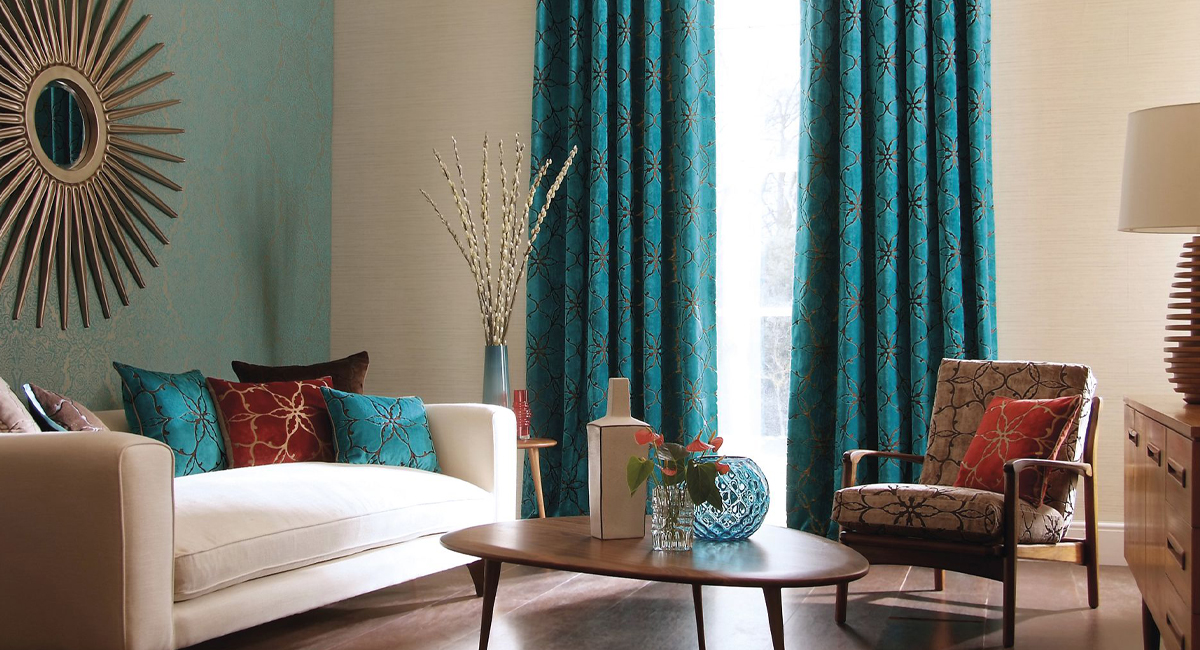 Posted On March 17, 2022
A window treatment is more than just the final touch on a comfortable living space. It is, in and of itself, a design choice. Everything from the colouration to the pattern of the print, and the arrangement of the curtain comes into play when designing a comfortable, homely room. If you're not sure how to design or arrange your window treatment, here are some curtain ideas that may be just what you're looking for.
1 – They are Heavy, They're my Drapes
Drapes are different from curtains in that they're generally made from thicker, higher quality material like silk, damask, or velvet. Because their thick and heavy qualities add a sense of royalty to a room. They can make a space appear formal and high-class. The drawback to this however is that the fabrics used to make drapery usually require more maintenance and deeper cleaning.
2 – Curtains are like Onions!
Layering curtains allows you to mix and match designs, for some truly stellar results. Not only that, but for people who want great temperature control without committing to something as heavy and confining as drapes, layering curtains provides the same advantages of light and temperature control without the disadvantages of heavy materials and difficult up-keep associated with drapes. This can be particularly effective with the use of designer curtains.
3 – A Splash of Colour
In recent years it's been very popular to paint a room a dull shade like white or grey. While these serve to open a room, it is a little bit cold, and its primary function is to make any colours present within the room pop. Well, if your room is one of these muted shades, why not make a splash of colour with a highly saturated curtain!? In rooms with cooler colour schemes, richly coloured designer curtains can apply some much-needed warmth that will splash throughout the entire space.
4 – For the Sheer Fun of it
If you have an abundance of large windows, you may consider simply using sheer curtains. Sheers are thin, translucent curtains that allow an abundance of natural light, as well as decent privacy during the day. Sheers are classy, elegant, come in a range of soft, calming colours, and are inexpensive, and easy to care for. They can be layered just like normal curtains and arranged into many beautiful designs. The only issue is that at night when you have lights on in your house, they don't offer much in the way of privacy. Though this can be rectified (somewhat) by layering sheers, you may want to purchase blinds or curtains for nocturnal use.
5 – Layering 2.0: Blinds and Shades
Did you like the earlier idea of layering curtains but didn't like the looser temperature and light control? No sweat! You can layer your curtains with blinds and shades, offering the best of both worlds! Not only does this add more depth to your window treatment, but it also allows optimal control over how much light and warmth will enter your room, as well as more privacy, and more choices for the design of your window treatment as you mix and match curtains with blinds and shades!
6 – Give your Window a Scarf
Not that it's going to get cold or anything like that you understand. Window Scarves are fabrics that are similar to sheers. They are cut to shorter lengths, and you can hang them over your curtain pole in a range of beautiful designs. They're purely aesthetic and don't really do anything to control light and temperature, so the pros and cons of window scarves are what you make of it, but they are inexpensive and when used well can add an extra layer of depth to your window treatment.
Want some Help?
We don't doubt for a second that you're perfectly capable of picking out a window treatment that you'll love for years to come, especially with these beautiful options we've just highlighted for you. However, there is such a thing as choice paralysis, and sometimes too much choice can be a burden. This is where Blinds and Designers is here to help. We are a chief source of custom curtains in Melbourne, and if you contact us now, we can organise a free measure and quote, or if there's something else you'd like to discuss, call us on 1300 801 836!